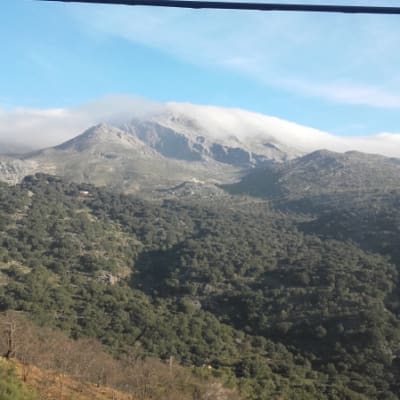 Walking Holiday Andalucia, Spain
varied peaceful hiking vacation
This holiday comprises seven days of varied hiking of a medium level.
♥ Boots necessary but no scrambling
♥ All inclusive holiday from arrival in Malaga to departure.
♥ 3-course Dinner with local Ronda wine every evening
♥ Picnics when necessary
♥ Detailed notes
♥ Hire car from Malaga airport
♥ Collection service if you get tired!
♥ 850 € per person sharing a double room
Not included:
♥ Flights
♥ Travel Insurance which is highly recommended
How to reserve:
Contact us with your desired dates (not July or August when it is too hot) and we will make the reservation. A 200 € deposit is required upon booking the holiday.
What you can expect to see:
♣ Chestnut groves and snow white painted villages presenting quintessential Andalucían scenes
♣ Two of Andalucía's most interesting national parks, the Sierra de las Nieves and Sierra de Grazalema
♣ The ancient cliff-top town of Ronda where cobbled streets and open-air cafes provide ample chances to rest, relax and soak up the stunning views over the gorge.
♣ Delicious Mediterranean dishes are served at the hotel taking the very best of Spain and Morocco to create some truly majestic meals.
♣ Local Ronda wines, sherries from Jerez, and gins from Spain!
Suggested Itinerary which is totally flexible - walk more, or less, or not at all!
Day One: Pick up your rental car at the airport and drive the 90 minutes to Cartajima using the detailed directions we supply. A warm welcome with sherry awaits you.
Day Two: The first walk we suggest is a triangular route that goes through two of the seven little pueblos blancos of the Alto Genal valley. The route goes mostly through sweet chestnut forests. 16 km - 5 hours
Day Three: A 30 minute drive takes you into Sierra de las Nieves Parque Natural for a hike in the foothills of the highest peak, Torrecilla. 8 km - 3.5 hours
Day Four: A city walk today as you go around Ronda and then through the old city taking in most of the monuments. A chance to do some shopping for leather, ceramics, and other local handicrafts. 11 km - 3 hours or can be shortened
Day Five: Today a real treat! The Caminito del Rey which was until a few years ago dubbed "the most scary walk in the world". Now rebuilt and restored it is totally safe but thrilling scenery. Total trip including the drive in is 6 hours.
Day Six: Visit the blue village! And then on to a wild and lonely walk through dramatic limestone karst that forms the backdrop to the Alto Genal Valley. Weird rock formations will excite your imagination. 4.5 hours and can be shortened
Day Seven: A 40-minute drive takes you to another Natural Park, the Sierra de Grazalema and the stunning mountaintop town of Zahara complete with Moorish ruined castle. The walk goes through open countryside, woodland and close to the largest griffon colony in Europe. 15 km - 5 hours
Day Eight: We say goodbye and send you on your way back to the airport with happy memories of a marvellous walking holiday.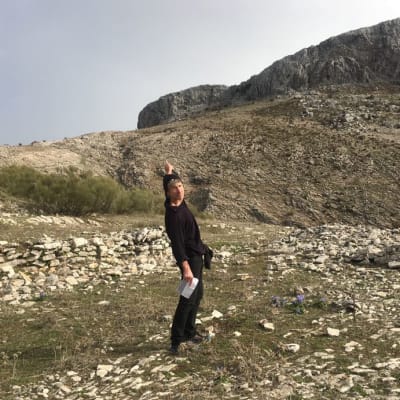 Walking near Ronda
♥ a walk on the wild side ♥
Walking the trails of the Ronda mountains (aka Serrania de Ronda), in the south of Spain, can be wild and undiscovered.
Hotel Los Castaños is located in the small mountain village of Cartajima in the middle of the little-known Alto Genal valley. It is one of the few remaining pristine hiking areas in the south of Spain. You won't find it on most maps but it does get a mention on here.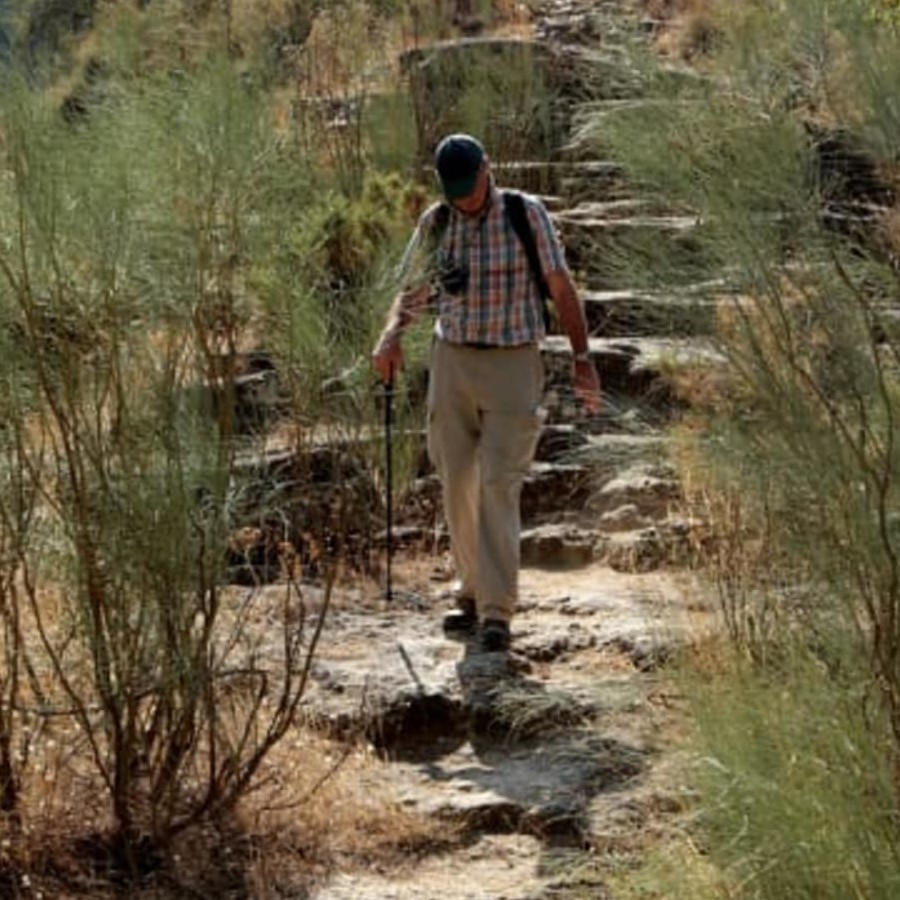 Walking Areas
The area around Hotel Los Castaños is called the Alto Genal valley, a paradise for walkers. Quiet trails connect seven tiny pueblos blancos and we provide detailed walking notes. Our guests seldom encounter another person on the trails.
Cartajima is 17 km from Ronda, Andalucia and we have devised a great walk around the town and in the streets of this ancient and fascinating town.
We also have routes in the Sierra de la Nieves, one of Spain's least known but most spectacular natural parks. It has amazingly diverse flora and fauna, dramatic changes of landscape, stunning views down to the Mediterranean, and intriguing Civil War ruins. Also, should it interest you, some of the deepest caves in the world.
Details of our hikes
Most of our hikes are circular, involve descents and ascents totalling between 200 and 700 metres. Some start from the hotel door, others involve a short drive. They vary from two to six hours, easy to moderate in difficulty. They are self-guided and we offer a collection service should it be needed. We also offer guided walking holidays. For the most part the walks are on tracks and defined footpaths.
We can provide detailed up-to-date notes for the following walks:
♥ A Little Loop - 30 minutes
♥ Cartajima to Juzcar - 1 hour each way
♥ Cartajima to Parauta - 1 hour 15 mins each way
♥ Cartajima to Pujerra - 1 hour 30 mins each way
♥ Cartajima to Parauta to Igualeja to Cartajima - 16 km, 5 hours roughly
♥ Cartajima to Pujerra to Juzcar to Cartajima - 16 km, 5 hours roughly
♥ Los Riscos - From the car park 1 hour 30 mins
♥ A wander around Ronda - 3 hours
♥ Over the mountain to Ronda - 12 km, 4-5 hours
♥ Sierra de las Nieves - 4 hours walking. 40 min drive each way
♥ Caminito del Rey (reservation required) - 1 hour 15 min drive each way, 3 hours walking.
Best time to walk the Serrania de Ronda?
Actually any time except for July and August when it might be a bit hot for most people. Every season offers different wonders: Spring brings wild flowers and migrating birds; early summer, the chestnuts flower and a musky scent fills the air; in Autumn the sweet chestnut trees (los castaños) go through a spectacular palette of red and gold. And winter walking in the Ronda area can be marvellous, not too cold and often with brilliant skies when you can see as far as Africa and the Rif mountains of Morocco.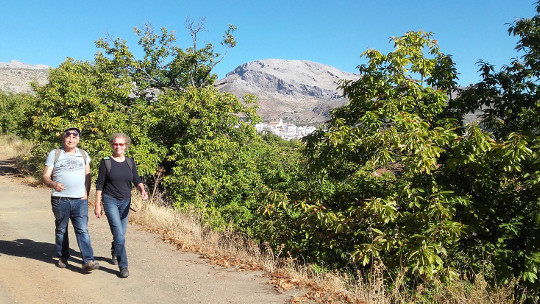 "…holiday packed with interest, suitably challenging walks and superb scenery, and underpinned with a sustaining support system of excellent quality and friendly delivery."John Pickering, UK
A Walker´s Journey to Cartajima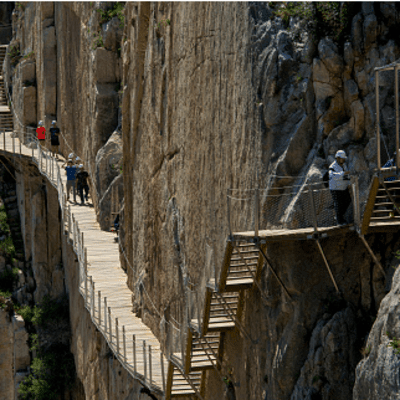 Caminito del Rey
a really wild walk!
The full length of the path is 7.7 km, including the walk in and the boardwalks. Advance tickets are required and the hard hats supplied must be worn. Lots more information and ticket purchase on the official site here
As a guest of Los Castaños, we will be happy to get advance tickets for you if you let us know. It is just over a hour's drive away from Cartajima so a lovely day's excursion for those not inclined to vertigo.
There are a couple of restaurants nearby or we can provide a picnic.
It is a linear walk and a bus brings you back to where you started.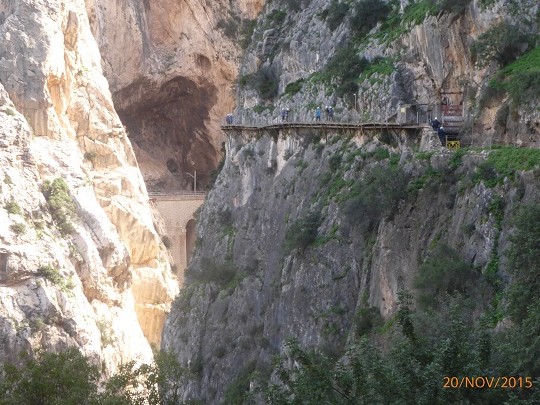 Constructed in the early twentieth century for access to dam construction between Málaga and Ronda, this footpath, suspended over the gorge, hanging in midair, has long been a mecca for daring doers. It came to be known as the scariest hike in the world. After falling into dangerous disrepair and a series of deaths, the path was closed. Now, completely revamped and totally safe, it reopened in 2015 to the public.
Shortly after it reopened, the generous Delegación of Málaga (equivalent to the County Council) sent a luxury coach to the village to transport the group of about fifty members of the Cartajima Women´s Association to the northerly trailhead. When one member bottled out of walking the scariest hike in the world, John was invited to take her place. He was amazed by the views, the scenery, the sheer magnificence of it.
Give it a go! The occasional guest has complained that it wasn´t at all scary!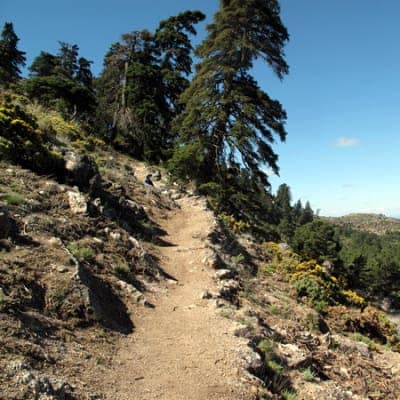 National Parks near Ronda
Wonderful wilderness places
We are conveniently located between two of Spain´s fantastic parques nacionales: the well-known Sierra de Grazalema and the overlooked Sierra de las Nieves.
There is tons of information about the former online and we have detailed notes for a five-hour hike in the Grazalema Sierra but there are many more. Four of the hikes require a permit and hiking is prohibited during the warm months due to fire risk. Lots of information here We can help with permits if you give us enough notice.
The Sierra de Las Nieves is a rather different place as it is not so well known and consequently not as visited. We have two spectacular walks in the area with our up-to-date detailed notes.
It teems with wildlife - on a recent trip, without even trying, we saw wild boar and their family of piglets, wonderfully wild horses, just as wild peonies (!), ibex, rabbits, hoopoe, booted eagle. ...
If you are into speleology, it has one of the deepest caves in Europe. We can introduce you to a local guide.
On one of our walks you can see remnants of the Civil War, chilling but interesting. This area was on the front line for a period during this vicious conflict eighty years ago.
It is home to the rare pinsapo pine which is only found here and in Morocco at high altitudes.
The area used to support several industries among them the production of ice. Read about it here in Spanish. On one of our walks you can see a restored icepit. Before refrigeration was invented, there were people whose job was to make ice and deliver it to the rich and famous via mule.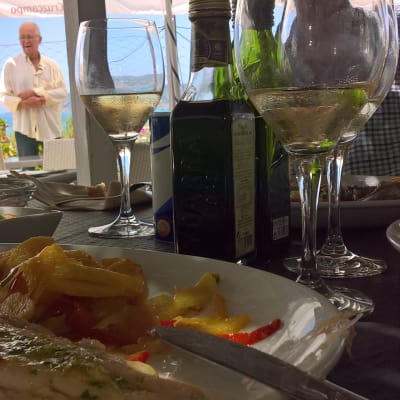 Andalucia´s Undiscovered White Villages
off the tourist trail and far from the crowds
The Alto Genal Valley, in southern Spain near the touristy town of Ronda, is a secret. Not even Condé Nast has discovered it!
It is a walker´s paradise as the seven pueblos blancos are interconnected with trails, created for the local farmers and not specifically for walkers.
These days there are seven little white mountain villages perched on the hillsides but interestingly, before the Inquisition, there were as many as 21.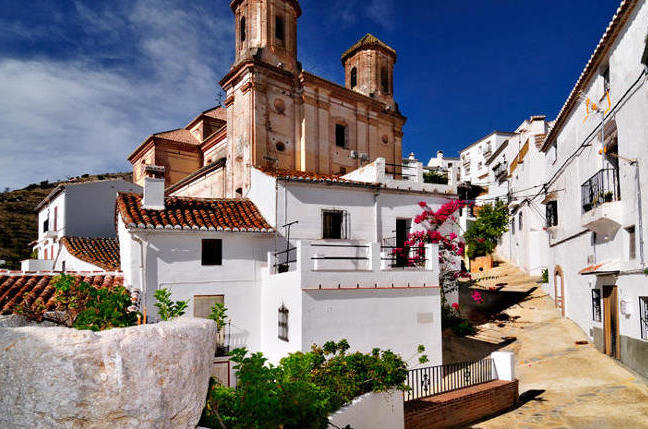 ALPANDEIRE
Birthplace of Fray Leopoldo (1864-1956), a Capuchin monk famous for his miracles.
Home to El Barbara, notorious bandit killed in a shootout in 1851.
The Catedral de la Serrania was built to house three times the population that has ever lived in the village.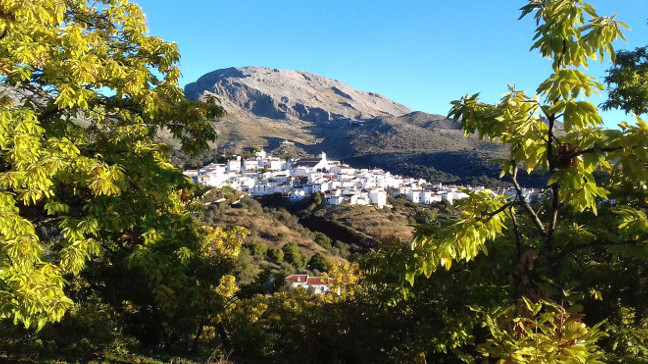 CARTAJIMA
At 846 metres, Cartajima is the highest village in Malaga province.
More people processed by the Inquisition than in any other village for shaving and washing.
There´s a Moorish treasure left by the retreating Arabs and yet to be found. They also say there is a Roman necropolis. There isn´t. It was an early confusion with Cartama that has been repeated in every subsequent guidebook.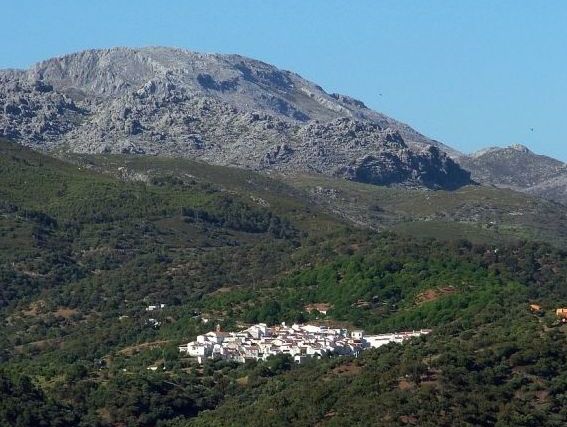 FARAJAN
Hemingway called it "a white swan on a pool of hope". Nobody quite knows what he meant so if you have any ideas do let us know!
In Arabic, the name means "pleasant place"
There is a good restaurant in the village. Worth visiting!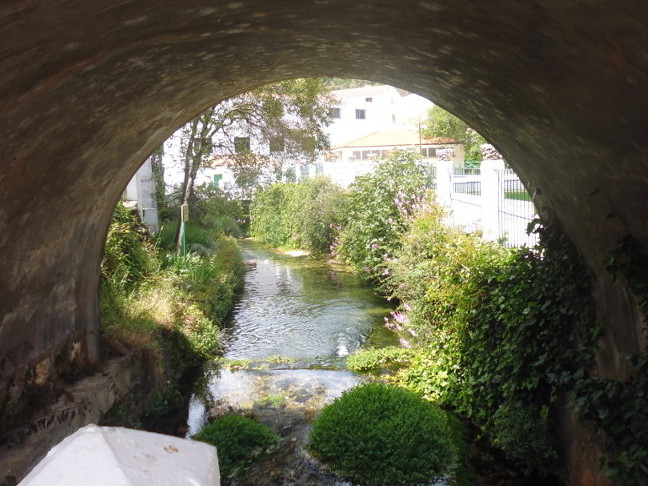 IGUALEJA
Birthplace of the Rio Genal that gives its name to the valley.
After reconquest, the land was parcelled off equally so each family had enough. This stab at egalitarianism did not last long.
The only village with a Latin rather than Arabic name.
It´s said that a grandparent of Antonio Banderas was from here. I invited the famous star to come and have coffee with the Cartajima Asociacion de Mujeres but he didn´t come.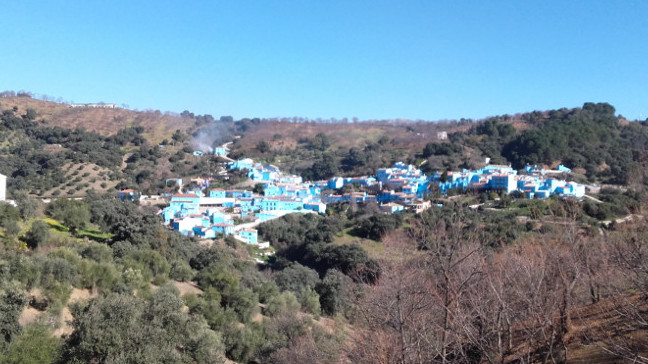 JUZCAR
Famous for the 18th century tin plate factory.
The only white village that is blue!
They have the tiniest Virgen, the size of a doll.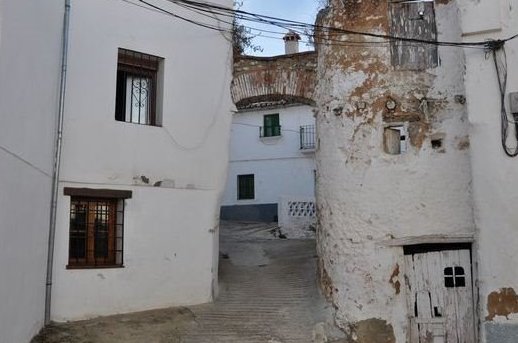 PARAUTA
Look out for a large and rare pinsapo pine in the village.
18th century doors abound
Also look for a Moorish arch connecting two buildings.
PUJERRA
King Wamba, a Visigoth, lived here before ascending the throne.
The most remote of the villages but once on the main route from coast to Ronda.
Rare 2nd century bracaris, tiles with Christian symbols were found here.