Los Castanos Themed Holidays
Unusual breaks in the heart of Andalucia!
Creative Writing with Anna Smith
Highly successful crime writer Anna Smith, Scottish author of the acclaimed Rose Gilmour series, will be leading a holiday focused on creative writing. Anna's credentials are impeccable: years of investigative journalism and now seven best-selling novels based on her experiences in the field. This course will appeal to all aspiring writers and especially those with an interest in crime writing. So if you're interested, do not hesitate to get in touch, as Anna is available to chat with prospective participants about their particular interests before reserving your place.
Watercolouring and More – explore your creativity
An unusual and very interesting week-long all-inclusive holiday for painters! Whether you've already discovered the joys of painting or this is something you've always wanted to try, here is an opportunity to explore your creativity in a safe, non-judgmental environment alongside an experienced gentle teacher. From fresco to hot wax, tempera to acrylics. A week of experimentation and self-expression with classical art techniques will be led by the talented Enrique Linaza.
Hike the Hills of Western Andalucia!
We've made it easy for you to have a week's mountain walking in and around Ronda, the secret paths known only to the local farmers – and us! If you love pristine quiet trails through magnificent landscape, this one is for you. Return after your long walk to your luxurious accommodation, a home-cooked dinner and a bottle of local Ronda wine. Detailed walking notes provided, picnics when required, hire car included so all you have to do is book your flight and relax!
Watercolouring and More Holiday
Andalucia offers panoramic vistas, unusual architecture, amazing light, warm climate
An all-inclusive week of experimentation and self-expression with a range of art techniques led by Enrique Linaza. Next course begins on 29th May until departure on 5th June.
We are thrilled to announce that Enrique Linaza will be your leader/teacher/guide on this week-long art holiday exploring many different media and channels for your creativity.
Enrique Linaza, your guide on this painting journey, is a painter and muralist who has explored engraving, architecture, figurative and realistic painting. He is especially interested in the use of natural pigments, classical and new media such as egg and gum tempera, fresco, watercolour, acrylic and oil painting.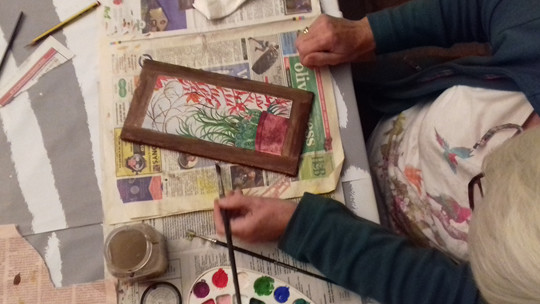 Enrique´s credentials are exemplary. He has studied and exhibited his work in many different countries including all over Spain, France, México, United States, Ireland, Jordan – the list is too long to mention all his claims to fame! Plus I would add he is a really nice guy, easy to talk to, pleasant, eager to impart his extensive knowledge.
A renaissance man, he studied architecture, graphic arts, fine arts, plastic arts and landscape architecture. He has won prizes in competitions for public art: murals, parks, sculpture. He speaks Spanish, English and French and has taught at Harvard, in Mexico, and naturally in Spain.
His website is http://www.enriquelinaza.com/


Details of the Course
The course lasts seven nights. During those six whole days Enrique will devote 36 hours at least of workshop time with the group. There will be sessions after breakfast from 10 am till a light lunch at 1 pm. Siesta! Then we meet again at 4 pm for the three-hour afternoon workshop. After dinner we can sit around the fire, roast some chestnuts, and enjoy some relaxed social time together.
The course is perfect for people with an interest in learning, practising or perfecting their artistic nature. Don't feel you need to "know how to paint or draw". All you need is an interest in experimenting with art in friendly, non-judgemental, luxurious surroundings. It is a relaxing holiday with art and companionship and great leadership.
The teaching model is "learning while doing" to motivate and awaken artistic expression and creativity. The idea is to allow each participant a chance to express themselves through a variety of techniques so that each participant has the chance to find a channel for their own artistic expression.
During the workshop we will explore small exercises with both classical and modern techniques using natural pigments in egg and gum tempera, fresco, watercolour, acrylic and oil painting.
Weather permitting we can also make short excursions into the beautiful countryside around the village of Cartajima and paint al fresco.
Click here to go to our Gallery page to see photos of the surroundings
Details of the holiday
Date: Monday, 29th May arrival to departure Monday, 5th June
Maximum group: 12
Minimum group: 5
Price Chart:
Total Price for 2 painters sharing a room: 1665 euros
Total Price for 1 painter, single occupancy: 1120 euros
Total Price for 1 painter and 1 non-participant sharing a room: 1515 euros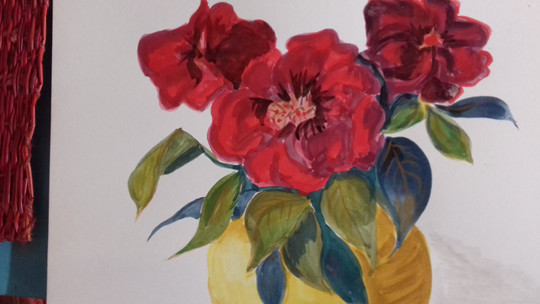 What's included
7 nights full board and accommodation in Los Castaños' luxury rooms and 10% IVA (breakfast, lunch and dinner)
Local Ronda wine with delicious Western Mediterranean dinners
36 hours tuition from Enrique
All art materials

Collection from Malaga airport can be arranged if required

What's not included
Holiday insurance (recommended)
Flights
Ground transportation except as above

How to join the group
How to reserve: use the contact form to let us know of your interest and to address any queries you may have about any aspect of the holiday.
25% payment required upon reservation which is fully refundable if cancelled at least 30 days prior to the start of the course. The balance is due upon arrival. Payment by credit/debit card (Visa or Mastercard)
The course is restricted to maximum of 12 people so for more details of the course and content of this exciting all-inclusive retreat for painters, please send us a message using the contact form here or telephone for instant gratification +34 952180778
Creative Writing Course with Anna Smith
We are excited to offer an all inclusive small group writing holiday led by award winning journalist and crime author, Anna Smith!
12th May 2017 – 18th May 2017
It's said that each of us has a book in us struggling to get out. But most of us don't know where to start. If you want to write a novel or you have a stalled manuscript or just a brilliant idea and can't get going, Anna Smith can help. We are thrilled to have the opportunity to host a 5-day (6 nights) course led by her. Limited to about seven budding writers, it's going to be a wonderful opportunity. The professional skills of an established crime writer, the comfy quiet and dreamy romance of Los Castaños, great food and wines, all combine to provide a fertile ground for inspiration!
Anna is the highly acclaimed author of the bestselling Rosie Gilmour crime series with a fantastic background in journalism and novel writing. Explore her website here. Anna's course will teach you writing techniques, how to structure your novel, characterisation and narrative.


This content-packed full 5-day (6 nights) course includes:
5 whole days with Anna Smith
Small group – maximum 7


Accommodation
Meals
Breakfast every morning
Light lunch
Dinner every evening with wine included


Comforts
All the usual comforts and facilities (including walking notes for quiet contemplation!) provided at Los Castaños
Transportation
Transportation can be arranged if necessary e.g. from Malaga airport
Dates
Arrival 12th May 2017, departure 18th May
Prices
Total price for 2 writers sharing a room: 1470 €
Price for single occupancy 960 €
Total price for 1 writer and 1 non participant 1320 €
How to Reserve:
Use the contact form to let us know of your interest and to address any queries you may have about any aspect of the holiday.
25% payment required upon reservation which is fully refundable if cancelled at least 30 days prior to the start of the course. Balance is due 30 days prior to arrival on 12th May. Payment by credit/debit card (Visa or Mastercard).
The course is restricted to seven people so for more details of the course and content of this exciting all-inclusive retreat for writers, please send us a message using the contact form here
Walking
All-inclusive week (or less if you don't have a week free) of gorgeous walking in wild and secret Andalucia
Your unique opportunity to visit truly traditional Andalucia – spend seven days (or less) and meet the people, experience their culture, taste their food and wine, hike and explore their quiet mountainscapes. And amazing birds!
The Alto Genal is unbeatable for a walking holiday in Spain. A quiet, undiscovered valley with 7 tiny villages scattered around the higher reaches of the river. One side of the valley has rough limestone crags which make for exciting mountain walking, the other side is covered with sweet chestnut trees. In spring there is a wide variety of wild flowers and migrating birds, in early summer the chestnuts flower and a musky scent fills the air, and in autumn the chestnut trees go through a spectacular palette of red and gold. Walks vary from one to five hours and from easy to moderate in difficulty and we supply detailed walking notes. And a rescue service should you get tired!
Suggested Itinerary:
| | |
| --- | --- |
| Day 1 | Pick up your rental car at the airport of your choice and drive the 90 minutes toCartajima using the detailed directions we supply. A warm welcome with sherry awaits you. |
| Day 2 | The first walk we suggest is a triangular route that goes through two of the seven little pueblos blancos of the Alto Genal valley. The route goes mostly through sweet chestnut forests. 16 km – 5 hours |
| Day 3 | A 30 minute drive takes you into the first of the Natural Parks that are on offer where the spectacular walk takes you through pines, past Civil War ruins, and gives you a chance to spot griffon vultures. Views of the coast, Africa and Gibraltar. 12 km – 4 hours and can be shortened |
| Day 4 | A city walk today as you go around Ronda and then through the old city taking in most of the monuments. A chance to do some shopping for leather, ceramics, and other local handicrafts. 11 km – 3 hours or can be shortened |
| Day 5 | The other triangular walk today taking you to the most remote of the villages, Pujerra, and then to Juzcar the only blue white village in the world. 14 km – 5 hours |
| Day 6 | We drop you off at the far end of your linear walk and you walk back across the dramatic limestone karst that forms the backdrop to the Alto Genal Valley. Weird rock formations will excite your imagination. 17 km – 6 hours and can be shortened |
| Day 7 | The Caminito del Rey, one of the scariest hikes in the world! Click here for more information. Or, if you don't fancy that, we have others up our sleeves or perhaps a free day for last minute shopping in Ronda. |
| Day 8 | We say goodbye and send you on your way back to the airport with happy memories of a marvellous walking holiday. |
Main Attractions
— seriously off the tourist trail pueblo blanco
— magnificent mountainscapes
— award-winning boutique hotel
— wildlife treats might include wild boar and horses, ibex, vultures and eagles
— fascinating, varied Western Mediterranean food
— Hike Sierra de las Nieves, rare pinsapo pines and Civil War memories
— detailed up-to-date notes with all hiking and driving
— flexible activities. Do more or less!
Restrictions – not suitable for children under 12, hiking medium difficulty
Dates – Subject to room availability. Avoid mid-June to mid September.
Cost: 782 € pp sharing a double room. If you would like less than 7 days holiday, please ask and we will adjust the price.
Included: Economy car collection at Malaga airport, 7 nights bed and breakfast, picnics as required, 7 dinners with local ecological wine, all taxes
Not included: Flights, insurance (recommended)
How to Make your Reservation: Put your preferred dates into the availability checker below and reserve securely online. Get anwers to any questions or make a reservation, please go to the Contact page or telephone for immediate attention +34 952180778